Sheet Metal Fabrication & Installation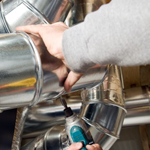 Master craftsmen build the full range of HVAC applications in the company's own shop. We have a full range of metal forming equipment to get the job done right.
Unlike our competition, all of our ductwork is custom designed for each job. And we insulate all of our ductwork.
We do the math to make sure the right amount of airflow is going where it needs to. By doing this, every job we do has perfect airflow to insure comfort, optimum equipment performance, low noise, and efficient operation.